Zoom
Zoom has emerged as one of the most popular platforms for meetings. Despite some security hiccups, which they have moved quickly to resolve, they remain a free and easy to use option. Zoom publishes a comprehensive guide to Zoom meetings.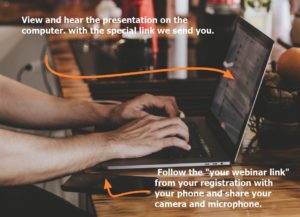 When choosing a platform, pay special attention to securing your meeting including a password that you do not publish to the public, but send only to the registered participants. This prevents unwanted disruptors from hijacking your meeting, especially if you are fairly new at managing your attendees with the software. Yes, it has been happening. Zoom is offering the waiting room and password features to all free accounts starting in April 2020. See more on that.
The University of Minnesota has an informative guide. While some of the advice is specific to teaching online within their accounts, it is still useful. Find it here.
Screen Sharing is easy on Zoom. Here is a video tutorial.

Google Meet on GSuite
If you have a G Suite Account, you can host online meetings on the Hangouts Meet platform. It allows you to invite broadly and yet admit each user as they ask to enter your meeting. A basic G Suite account is only $6 a month, well within reach of even the most frugal among us.
One advantage of Meet is that it works seamlessly from Google Chrome browser, eliminating the need to install software. The Meet app for mobile is free.
Google extended features of Meets — including space for up to 250 participants on any given call and live streaming for up to 100,000 viewers on a domain — that are normally reserved for customers of the G Suite enterprise tier of service to all of its G Suite customers until July 1. Now that's been extended until September 30.
Tutorials abound on the web. Here is one on video from Teachers Tech.
There are also other platforms, such as Skype, Webex and others.