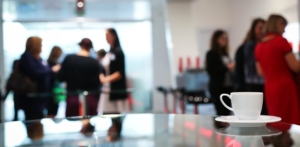 As a small business owner with a brick and mortar location, one of the biggest challenges is to attract your ideal customers to come to your store.  Maybe there is a slump in foot traffic and you don't have the budget to advertise.
Here are some steps to organizing a gathering event in at your location.
Set a date and time – think about when your customers will likely be able to come
Reach out to some complementary businesses starting with those close to you first.  Ask them to invite their clients and friends also.
The idea is that businesses that share a common client type can increase their clientele by networking with complementary businesses.
If businesses cannot attend, ask them if they have a brochure or product samples or coupons they would like to participate with.
If you need to create a quick social media card to promote the event you can go to Canva.com and create a free account. You can use their online graphic design software to create an attractive card. Use the link below and edit and download as jpg image. Post it on social media and send it with the invitation via email.  http://bit.ly/2ijaETu
Follow up with lots of reminders and social media post updates as you get businesses committed to attend
Print the invitation as a card (many on a page) place it at the places where you think your prospective customers visit. Even complementary businesses would share it in their stores.
Create an eventbrite.com event and use it to track registrations. There is no fee to host a free event.
Comment on this post and let us know how you used this to help market your event.
We are here to support you,
contact us
to discuss how we can help you market your business.