Even though this blog post came out some time ago. It is still good advice for those that have not embraced them.
1. Video: No Longer Optional
Have you watched an online video today? If you did, then your customers probably did, too. People love video! This year video will become an essential part of every business' digital marketing strategy — or they're going to miss out big time. Just look at these statistics that HubSpot has kindly pulled together for us:
4X as many customers would rather watch a video about a product than read about it. (Animoto, 2015)
Almost 50 percent of internet users look for videos related to a product or service before visiting a store. (Google, 2016)
43 percent of people want to see more video content from marketers. (HubSpot, 2016)
Marketers who use video grow revenue 49 percent faster than non-video users. (Aberdeen, 2015)
Most people (digital marketers and business owners) freak out when they hear the word "video." Their minds automatically go to a full-fledged video production company with a huge studio, fancy and expensive cameras, lights and backdrops. The cool thing these days is that videos don't have to be expensive or highly technical any more. (Have you checked out any of the most popular YouTube videos lately? Many are just shot using their iPhones (no editing) and are often shaky and with poor lighting and people still devour them.)
Now if you want to be more professional with your videos, there are some affordable solutions that will make your company's videos look even better:
Get a good-quality microphone. I prefer the Yeti Professional USB Microphone. It's priced at an affordable $129 (approximately).
Upgrade your webcam. Most laptops come with a webcam built in. If you want your videos to look even better, consider getting an external webcam that's of higher quality and allows you to zoom and move the camera around easily while you're recording or broadcasting. The Logitch Pro Webcam easily mounts on your computer's screen and you're able to zoom in and out easily to position the camera perfectly.
Step up your video even more. One product that made waves in 2016 is the Mevo live streaming video camera. This amazing little camera acts like multiple video recorders in one so you can show different shots, people, products or things using only one Mevo camera. Find out more at www.getmevo.com. You can also stream on Facebook Live using this handy gadget.
Which brings us to…
2. Facebook Live is a Must-Have
Yes, Facebook Live IS a video platform, but I think it deserves a little extra special treatment. Facebook Live has been limited to smartphone use only, which has made it a pain in the you-know-what. However, with the right stand to keep your phone still, you can still take great videos. However, Facebook has been making some changes. Facebook is now making Facebook Live an option on some Facebook personal pages on desktop computers.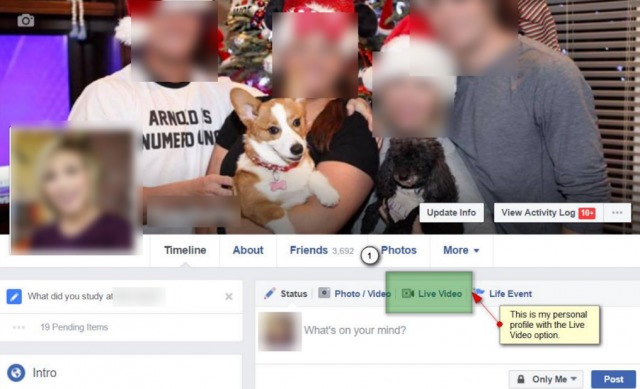 I'm not lucky enough to have that feature yet, but hopefully I will soon. Now remember, you can't use your personal Facebook page for business purposes, so don't get all crazy and wild just yet. The hope is that Facebook will make this feature available to business pages, but we will just have to wait and see. Until then here are some third-party software options that'll make it easier for you to broadcast Facebook Live videos through your desktop computer:
Wirecast: You can connect your Facebook Live page to Wirecast and stream live video of you, your screen or both. You can also live stream on other popular streaming channels like YouTube Live. You can find out more at www.telestream.net.
ManyCam: This free or paid-for webcam software and video tool lets you to use your webcam on most applications while you're live streaming or video chatting. Find out more at www.manycam.com.
Facebook has also just made scheduling Facebook Live "events" possible, so we expect more robust Facebook Live features to be released in 2017.
3. Mobile-First
More people are using mobile devices to search more often than desktop devices. Google has been giving us digital marketers hints for a while now that we need to start moving in the mobile direction. It first started when Google began showing the "mobile friendly" words next to search results on your smartphone. (That should've been a big red flag to everyone.) So many businesses got smart and redesigned their sites to be mobile-friendly/responsive.
One tool that will be handy for you as you think about mobile is Screaming Frog. In their latest version, the software allows you to fetch and render crawled pages through Google Search Console. (Note: remember to set up Screaming Frog to emulate the Googlebot Smartphone Crawler.)
When Google introduced the idea of AMP (Accelerated Mobile Pages) in 2015, many developers and SEOs' eyes glazed over. Now with the announcement of mobile-first indexing, it's clear the direction we're heading. Mobile MUST be in your plans for this year if it isn't already.
4. Local SEO will become more and more competitive
When Google first launched the original version of Google My Business, we were told that Google wanted the local businesses to succeed. By giving them a "free" page on the Google platform, which increased the odds of a local business showing up in the Google "local pack," small- to medium-sized businesses had, well, hope.
It was when the local pack went from seven local listings down to three (with the expectation that soon one of the three will be a paid-for spot) that the hope began to wither. Not only is competition for the local pack fierce but with more and more small businesses finally understanding that they need a digital marketing strategy, the space is getting more cluttered.
This year, SEOs who are helping small businesses must keep a close watch on what's changing on the Google local algorithm scene as well as do everything they can to give their local clients a boost. That means markup language, sitemaps (video sitemaps, too), a more organized, easier-to-crawl mobile site, specific local content that isn't just fluff… you get the idea. It could get cutthroat out there, so be prepared for all SMBs in town to fight it out.
5. Reputation marketing will FINALLY become mainstream
I've been talking about the importance of reputation marketing and selling reputation services for the last six years. It seems like only now digital marketing agencies and businesses are finally seeing the importance of customer-generated reviews.
A consumer's shopping experience now involves doing research online, watching product videos, talking with their friends on social media about which products or services they prefer and, you guessed it, checking out reviews.
Just look at some of the stats that came out in BrightLocal's recent Consumer Review Survey:
84 percent of people trust online reviews as much as a personal recommendation
7 out of 10 consumers will leave a review for a business if they're asked to
54 percent of people will visit the website after reading positive reviews
Not only do reviews help this new, advanced breed of shoppers make purchasing decisions, online reviews can also impact your rankings on Google. (And at this stage in evolution we all need a little help there!)
When reputation marketing first came out, there were very few tools on the market that really did what needed to be done: make it easy for business owners to ask their customers for reviews, manage any negative reviews and promote the positive ones. Now there are many options for reputation software on the market that can make your job easier.
**Sherry Bonelli is the Local Search Evangelist at BrightLocal. She leads BrightLocal's Research & Content programs and champions the needs of their SEO Agency and SMB customers. Having worked in digital marketing since 1998, Sherry has a Master's Degree in Internet Marketing along with numerous digital marketing certifications. In her "spare" time she is a volunteer mentor for the SCORE East Central Iowa Chapter where she coaches small businesses on how to use digital marketing effectively. Sherry frequently gives workshops and speeches on digital marketing topics to local business owners. She can be reached via email at sherry@brightlocal.com.